Back
Tortelloni stuffed with chickpeas cream
Tortelloni stuffed with chickpeas cream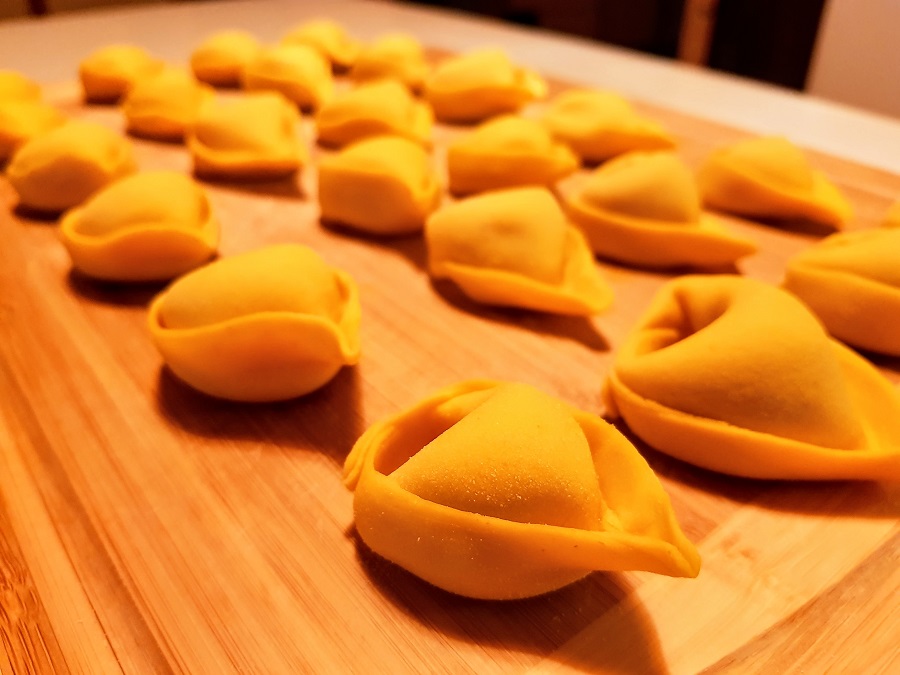 Let's revisit a typical recipe of northern Italy and in particular of Emilia-Romagna region, with a tasty and light dish: tortelloni stuffed with chickpeas. A little bit elaborate, that will give you much satisfaction!
Ingredients:
Flour 0, 250 gr
Water, 125 gr
Turmeric, to taste
Boiled chickpeas, 250 gr
Onions, 2
Carrots, 2
Celery, 1 stalk
Tomato, 1
Sage, 4 leaves
Salt, to taste
Extra virgin olive oil, to taste
Preparation:
Prepare the dough by mixing the flour with the water. Add a pinch of turmeric to colour.
Let the dough rest in the fridge, wrapped in a film, for half an hour.
Meanwhile, prepare the filling by frying an onion and a carrot chopped
finely
, and cook for a few minutes previously boiled chickpeas (or buy them ready-made, if you are in a hurry

). Then blend it all.
In a pot prepare the vegetable broth, by boiling in a liter of water a carrot, a celery stalk, a whole onion and a tomato, with a pinch of salt.
Roll out the dough (thin) on a shelf, with a rolling pin. Then cut out of the squares of 3 cm per side.
At the center of each square put a teaspoon of dough, and give shape to your tortelloni. How?
Here comes the fun: close the square forming a triangle (do
adhere to the dough by pressing with the fingers around the ball of stuffing) and
together the two ends that are at the base of the triangle around a finger.
(As I am afraid that my explanation is not so clear, here you have a short Youtube video

).
Boil the tortellini in the broth for about two minutes.
Drain, season with olive oil and sage, and serve!
Ti potrebbe interessare anche: